Water Efficiency Rebates
Water
water efficiency rebates
Water Efficiency Rebates
Are you looking to make some water efficiency upgrades but concerned about cost? Check below to see if you might be eligible for one of our rebate programs. If you have questions about our available rebates, checking for leaks, or how to receive free water conservation materials, please call the Public Education and Outreach team at 404.612.7400.

Toilet Rebate Program

In 2008, Fulton County began participating in the Metropolitan North Georgia Water Planning District's toilet rebate program, implemented in response to drought conditions in the early 2000s. Since that time, we have issued over 7,500 rebates, resulting in an estimated savings of over 130,000 gallons of water each day. Please see the eligibility requirements below to find out if your property qualifies for the program.

If your single-family home was built before 1993, you can apply for the Single Family Toilet Rebate Program administered by the Metropolitan North Georgia Planning District. You may be eligible to receive a $75 rebate on qualifying WaterSense labeled ultra high efficiency toilets to replace older toilets in your home.

Owners of multi-family properties served by Fulton County water can learn more about our Multi-Family Toilet Rebate Program.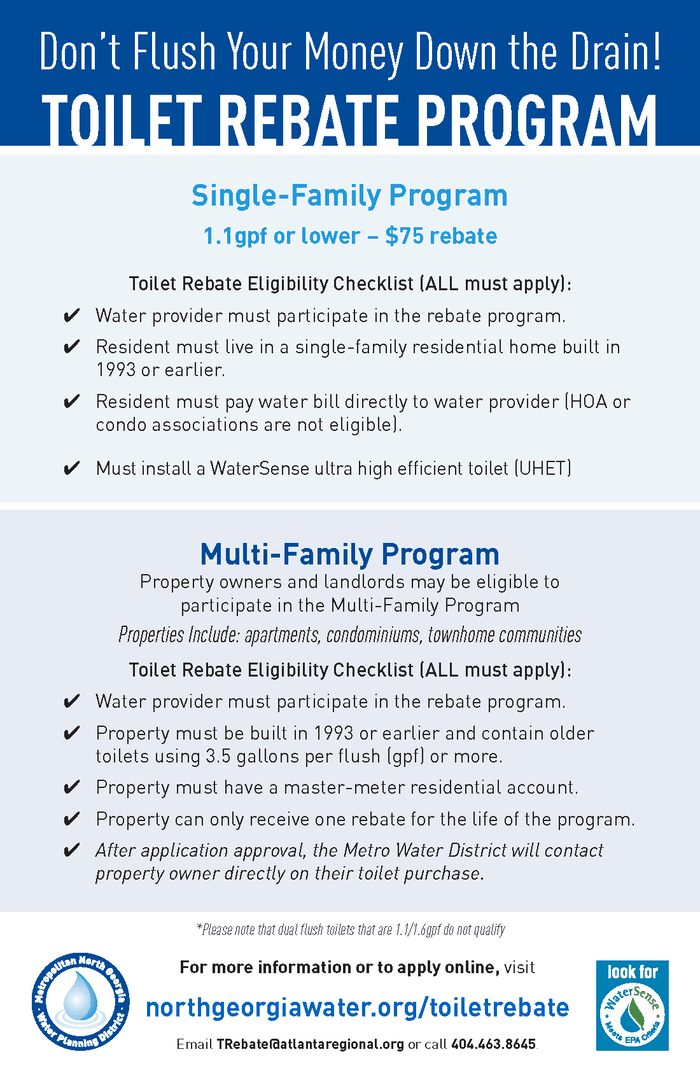 Smart Leak Detector Rebate Program
For the peace of mind of continual leak monitoring, consider installing a Smart Leak Detector. These devices are available in a wide variety, from water sensors that can warn you about a failing water heater to in-line flow monitors that can alert you to a leak and even shut your water off in an emergency.

**PLEASE NOTE: Fulton County Water & Sewer does not allow any device to be installed on the meter or inside the meter box. These types of devices will not be rebated and will be removed if found. If you have questions about which devices are eligible, please call us at 404.612.8006 before purchasing.**

Apply online for the Smart Leak Detector Rebate Program.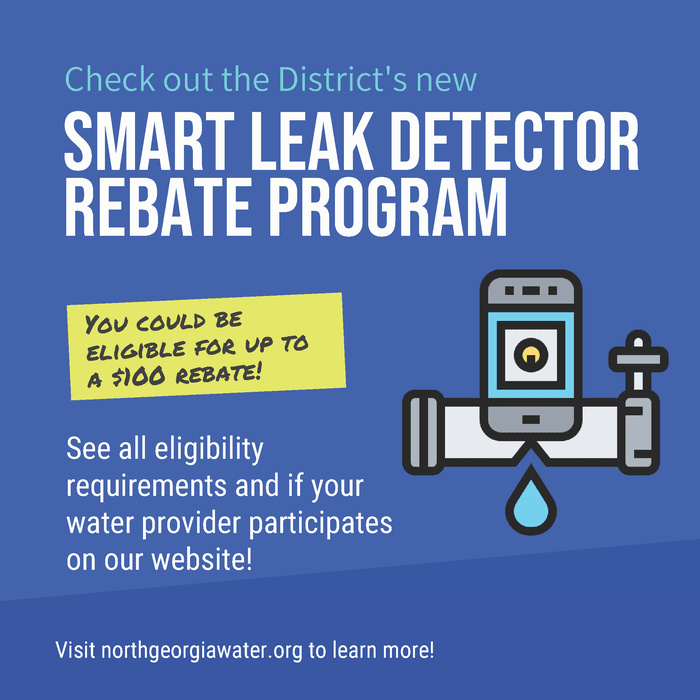 Links for this page:

Single Family Toilet Rebate Program
Multi-family Toilet Rebate Program