Fulton County Recognizes National Vote Early Day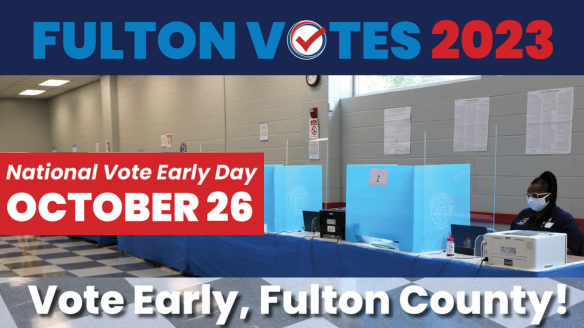 Fulton County Recognizes National Vote Early Day
The Fulton County Department of Registration and Elections is helping voters learn about the options to cast their ballots ahead of Election Day. Thursday, October 26, is National Vote Early Day and in recognition, Election's Voter Education Outreach Unit will once again hit the streets to help ensure that voters make their voices heard during the November 7 Municipal General and Special Election.
On National Vote Early Day, the Voter Education Outreach team will be on-site with the Voter Education Mobile Unit from 10:30 a.m. until 3 p.m. at Georgia State University, Sparks Hall, 33 Gilmer St SE, Atlanta, GA 30303.
The Advanced Voting period, which kicked off in Fulton County on Monday, October 16, will end on Friday, November 3. More than half-a-million Fulton County residents now have the option to vote early, by mail, or in person. Vote Early Day is a civic holiday founded by national nonprofits, businesses, election administrators, and influencers to ensure that all voters have the tools and knowledge to cast their ballot early for the upcoming midterm election and beyond.
For more information about early voting locations in Fulton County, visit the
link here
.