Fulton County Recognizes Voter Education Week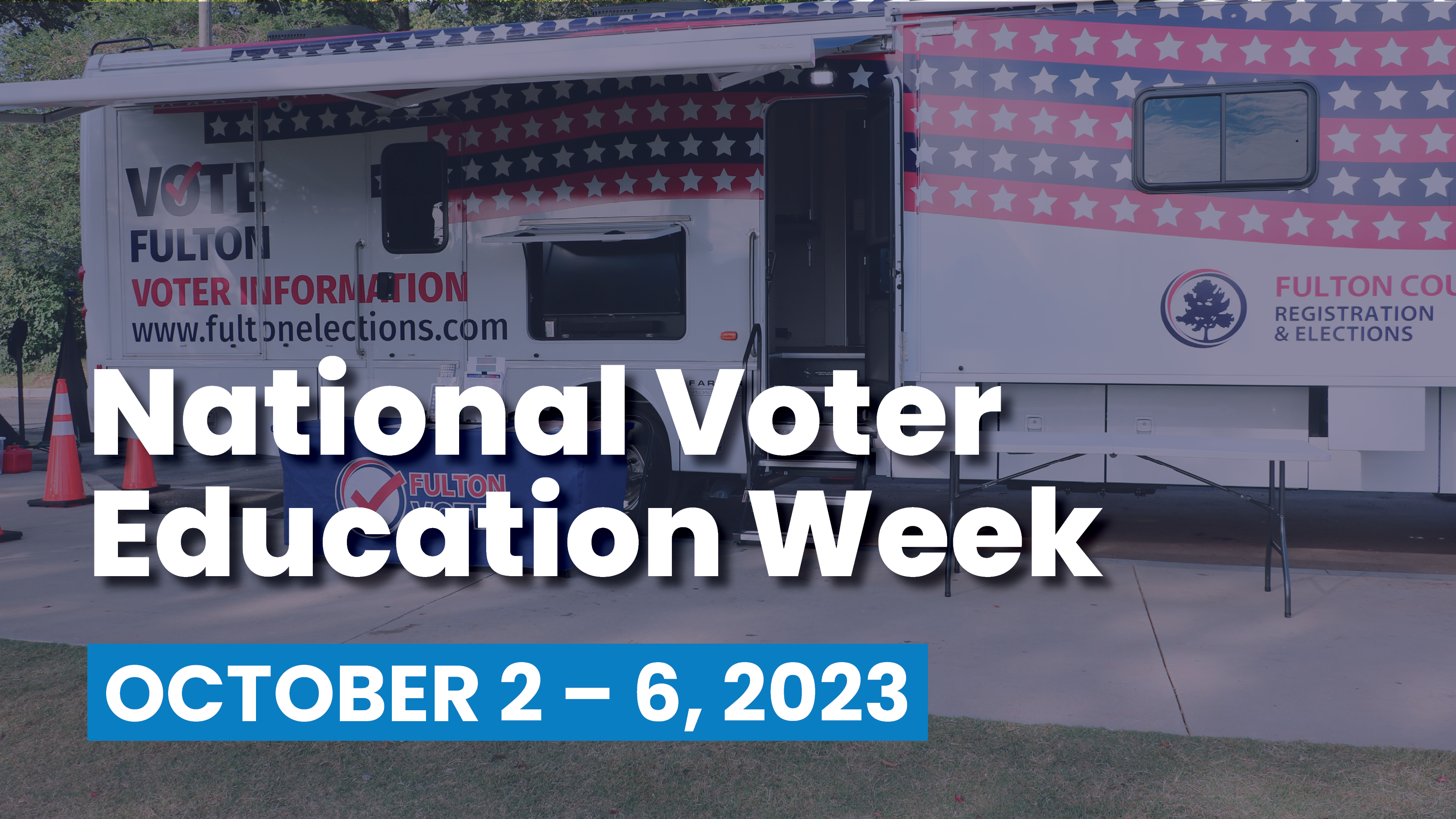 Fulton County Recognizes Voter Education Week
The Voter Education Outreach Team is hitting the streets to educate voters.
Monday, October 2 marks the start of National Voter Education Week 2023. The Fulton County and the Department of Registration and Elections will recognize the weeklong event, which ends Friday, October 6 by promoting voter registration and education. To get the word out, the Voter Education Outreach team will host a series of events to equip voters with the tools, information, and confidence they need to cast their ballots.

"National Voter Education Week will be another excellent opportunity to once again reach out to voters to answer questions, encourage voter registration, and to continue our efforts to recruit for poll workers," said Voter Outreach Education Manager LaShandra Little. "The goal of Voter Education and Elections is to reach voters in every corner of the county."

In recognition of National Voter Education Week, Fulton County will visit the following locations:
October 2
East Roswell Library
2301 Holcomb Bridge Road, Roswell, GA 30076
Noon – 3:30 p.m.
October 2
Buckhead Library
269 Buckhead Avenue NE Atlanta, GA 30305
10 a.m. – 1 p.m.
October 2
Creekside High School
7405 Herndon Road
Fairburn, GA 30213
9 a.m. - Noon
October 2
Deputy Registrar Training
email veo@fultoncountyga.gov
to register
6 p.m. – 7 p.m.
October 3
Adams Park Library
2231 Campbellton Road SW, Atlanta, GA 30311
1 p.m. – 3 p.m.
October 3
Ocee Library / Dr. Robert E. Fulton
5090 Abbotts Bridge Road, Johns Creek, GA 30005
10 a.m. – 2 p.m.
October 3
Union City National Night Out
5027 Dixie Lake Road, Union City, GA 30291
6 p.m. – 8 p.m.
October 4
Kirkwood Library
11 Kirkwood Road NE
Atlanta, GA 30317
10 a.m. – 1 p.m.
October 4
Johns Creek High School
5575 State Bridge Road
Johns Creek, GA 30022
10:30 a.m. - 1:30 p.m.
October 5
Mechanicsville Library
400 Formwalt Street SW
Atlanta, GA 30312
Noon – 3 p.m.
October 5
Anthem II
1928 Waycrest Drive SW Atlanta, GA 30331
Noon -2 p.m.
October 5
Cambridge High School
2845 Bethany Bend
Milton, GA 30004
11 a.m. – 2 p.m.
October 6
Centennial High School
9310 Scott Road
Roswell, GA 30076
6 p.m. – 8 p.m.

Fulton County residents can register to vote at each of Fulton County's 34 library branches. Additionally, Georgia also offers online voter registration. Voters can register by mail to vote in Georgia by printing a voter registration form, filling it out, and mailing it to your local election office. Voters also have the option to register to vote in person. If you have already registered to vote, you can check your registration and remind family and friends to also get registered.

Early voting in Fulton County starts October 16 and ends November 3, 2023. For more information about how to register to vote, log onto https://sos.ga.gov/how-to-guide/how-guide-registering-vote