Commissioner Hall Presents the 2023 Empowering Young Men to Excel Youth Conference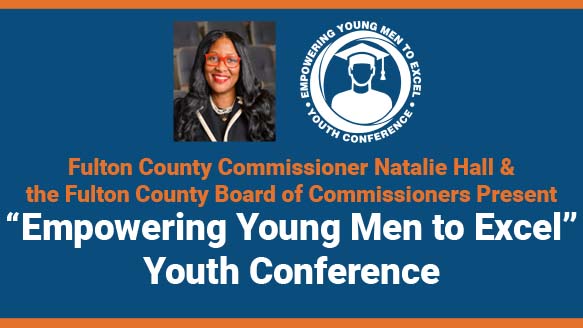 Commissioner Hall Presents the 2023 Empowering Young Men to Excel Youth Conference
The life-changing conference will provide participants with information and resources to be successful.
Fulton County District 4 Commissioner Natalie Hall presents the 3rd Annual Empowering Young Men to Excel Conference on Friday, March 24 at the Loudermilk Conference Center, located at 40 Courtland Street NE, Atlanta, GA 30303. From 9 a.m. until 2:30 p.m., participants attending the one-day conference are assured to receive a life-changing experience.

"I see this conference as an investment in the young men in our community," said Commissioner Hall. "It is important that we pour into these teens. With 300 graduating high school male seniors preparing to attend, we are excited to be able to provide the resources and information that I know will become a vital piece they will need as they prepare for college, their career, and other life steps. My hope is this experience will foster opportunities for young men to develop into successful citizens and become assets to their community."

An experience that will include:
• Greetings – Atlanta Mayor Andre Dickens
• Keynote Speaker – Atlanta City Councilmember Antonio Lewis, District 12
• Interactive Workshops
• Panel Discussions
• Industry Exhibitors

The Empowering Young Men to Excel Youth Conference is a 1-day experience for young men graduating from high school that will include life-changing presentations, promote unity, and encourage them to continue to advance and excel academically and professionally. The goal is to enhance the experiences and services offered to young men in Fulton County and promote their engagement in healthy lifestyles, marketable skills, well-balanced relationships, and successful careers.