Fulton County Awards Additional $3 Million to the Department of Arts & Culture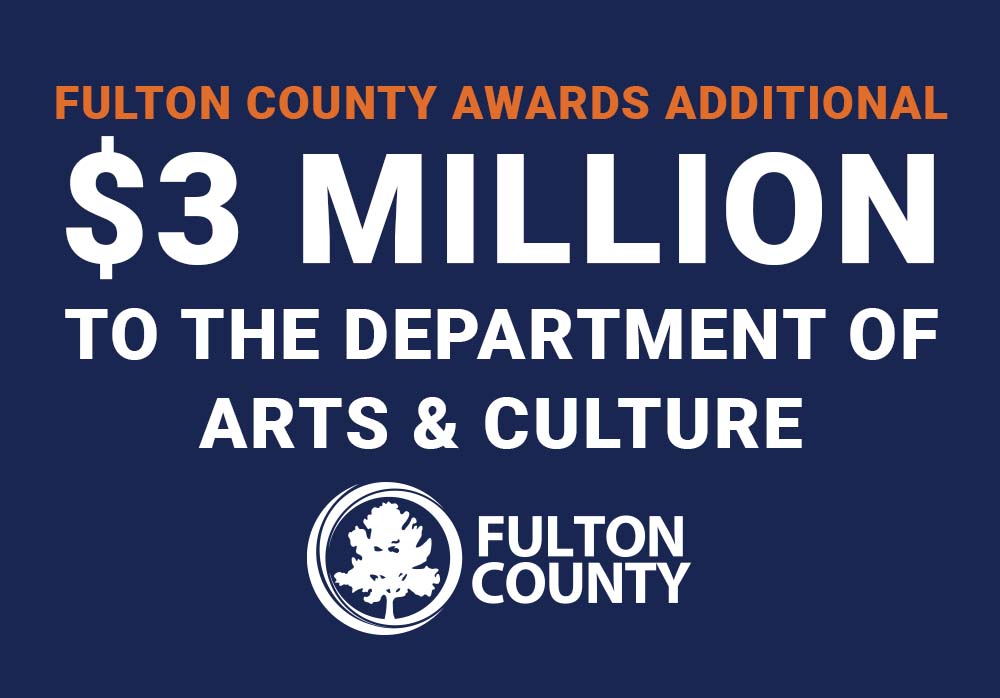 Fulton County Awards Additional $3 Million to the Department of Arts & Culture
During its meeting on January 18, the Fulton County Board of Commissioners awarded an additional $1.7 million, to equal a total of $3 million to the Department of Arts & Culture. Funding was earmarked for the Contracts for Services (CFS) program and will be awarded to arts nonprofits following the competitive application process.
Each year, Fulton County invests in non-profit organizations to ensure that Fulton County citizens enjoy a wide array of rich arts experiences. Funding awards ranging from $1,000 to $50,000 are available for Fulton County based artists, non-profit arts, organizations, non-profit cultural institutions, colleges and universities, schools, municipalities, and community based non-profit organizations in the form of essential project support.
"I'm grateful that my motion to approve an additional $1.7M in funding for the Arts & Culture Contracts for Services Grants was supported by my colleagues. We are moving in the direction of expanding to a broader vision of arts and culture. We are thrilled that our efforts continue to raise the bar for Fulton County-based arts nonprofit organizations and artists to continue enriching our communities and to help them provide more access for Fulton County residents," said Fulton County District 4 Commissioner Natalie Hall. "We are providing increased support of the creative industries, which are the lifeblood of the creative economy and include advertising, architecture, arts and crafts, design, fashion, film, photography, music, performing arts, research & development, software, computer games, digital art, electronic publishing, TV/radio, and much more."
"This is exciting news for all of Fulton County because art serves as both an economic driver and a quality-of-life enhancement," said Fulton County District 5 Commissioner Marvin Arrington, Jr., Strategic Priority Sponsor for Arts & Culture. "The Board of Commissioners is always pleased when it is able to share this type of news. This demonstrates the County's commitment to strengthening cultural assets for artists, our partners, and all residents."
The Contracts for Services Program provides unrestricted general operating and project support to nonprofit and tax-exempt organizations, arts & culture organizations, cultural institutions, colleges, and universities, as well as units of government that produce or present ongoing arts programming for the general public. Award recipients present programs that reflect the cultural diversity of the County, captures the imagination of adults, families, and youth, invigorates neighborhood growth, and supports economic development.
Eligible applicants were encouraged to apply for these service contracts, which are designed to support arts programming taking place January 1, 2023 through December 31, 2023.
"With the support of the Fulton County Board of Commissioners, Arts Council, and the Contracts for Services Staff, we are pleased to support and champion the rich cultural resources provided by the arts community in Fulton County," said Arts & Culture Director David Manuel. "This is an impactful decision to increase our support for artists and arts organizations in Fulton County."
Since its inception in 1979, the Department of Arts & Culture has been committed to enhancing the quality of life for county residents and supporting cultural programs that provide art services to its communities. This year, they plan to invest in more innovative art programs through their Public Art Futures Lab, which is launching its 2023 open call for artists-in-residence this week and located at Underground Atlanta. They will also highlight Fulton County's Fashion Art Culture & Education (FACE), their newest initiative which includes partnerships and collaborations with Atlanta Public Schools (APS), Fulton County Schools, City of Atlanta, City of Alpharetta, Clark Atlanta University, and other industry partners. Additionally, the Department will make significant upgrades to the Emma Darnell Aviation Museum and Conference Center and West End Performing Arts Center.
As part of their commitment to creative industries, the Board of Commissioners transferred Fulton Government Television and Fulton Films to the Department of Arts & Culture from the Department of External Affairs, effective February 1, 2023.
To this end, the Board also awarded the Department of Arts & Culture an additional $250K for a total of $500K in funding to support Fulton Films, which supports filmmakers, producers, actors, and young adults who are interested in seeking a career in film or production. According to Manuel, Fulton Films will be expanding its reach to Miami, FL, Washington, D.C., and California - as well as collaborating with the likes of Marvel Studios.
For more information about ongoing programs and services, please visit:
www.fultonarts.org
or contact the Department of Arts & Culture at 404-612-4000.