Continuum of Care Board Meeting April 15 2021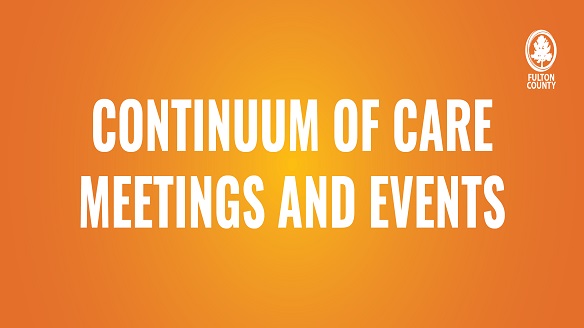 Continuum of Care Board Schedules Teleconference Meeting For Thursday, April 15, 2021
WHO: Fulton County Continuum of Care (CoC) Board
WHAT: Due to Fulton County facility closures and schedule changes related to the COVID-19 health emergency, the Fulton County Continuum of Care Board and membership meetings will be held utilizing the Zoom platform, Thursday,
April 15, 2021.
Among the issues to be discussed include Assessment Centers, Notice of Funding Availability (NOFA) Updates, Point in Time Sheltered Count results, Funding (Rental Assistance) and Homelessness.
WHEN: Board Meeting
Thursday, April 15, 2021
10 a.m. to 12 p.m.
Those members of the public wishing to participate can email
HomelessInfo@fultoncountyga.gov
Membership Meeting
Thursday, April 15, 2021
1 p.m. to 2 p.m.
Register in advance for this meeting:
https://zoom.us/meeting/register/tJcvdOGqrTgjHNU6V6Q15GhEy5h8vbaMmPos