Fulton County Library System To Re-open Hapeville Library for Curbside Services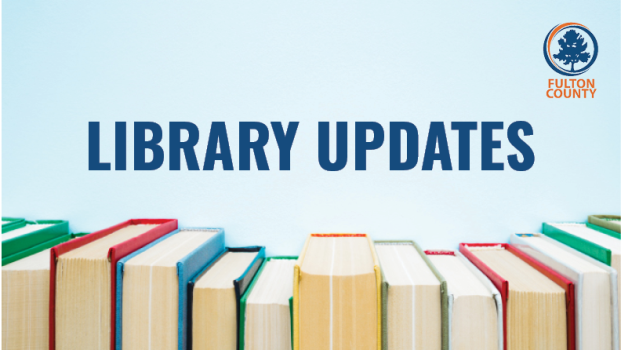 Fulton County Library System To Re-open Hapeville Library for Curbside Services
Beginning Monday, March 8, 2021, the Fulton County Library System will begin offering Curbside Pickup Services at the newly constructed Hapeville Library, allowing patrons and local residents another convenient location for library services. Library patrons will be able to pick up and return library books and materials to the Hapeville Library, as well as use other services, like park, zoo and museum pass checkout, wireless printing and laptop and hotspot checkout (based on availability).

The Hapeville Library, located at 525 King Arnold Street in Hapeville, has been closed as part of the Library Renovation Project and was the only branch in the program to undergo new construction. The design/build team of Albion General Contractors, Inc. and McMillan Pazdan Smith Architecture, with Project Management Heery/Russell, JV worked to bring the beautiful new space to life. The library will have a virtual "welcome back" ceremony at a later date.

All County libraries remain closed for typical in-branch library services, but items placed on hold by library patrons will be available for pickup from 10 a.m. to 7 p.m., Monday and Tuesday, and 10 a.m. to 4 p.m. Wednesday through Saturday.

To pick up library materials on hold, residents are asked to:
· Bring their library or photo ID to the branch where their items are being held
· Follow signs to designated parking spaces for curbside service (or to designated tables for walk-up services)
· Call the number on signs to alert a staff member that they have arrived and provide their name
· Show the staff member photo ID or library card through closed window
· Open/unlock trunk or back seat door to allow library staff to place items in their vehicle
· Walk-up patrons will use social distancing to provide ID and receive materials in front of branches
To return library materials, residents are asked to:
· Bring their books or other materials to any library branch open for curbside services
· Place items in book drops located at every branch
· All items returned to the library will be placed in quarantine and will not be checked out to any library patron for a minimum of 24 hours
In addition to curbside services, the Library System's Ask a Librarian live assistance site will be available during the same hours as curbside services, Monday/Tuesday, 10 am - 7 pm, and Wednesday through Saturday, 10 am - 4 p.m. Virtual Programming will continue on the Library's social media channels by following @fulcolibrary. For updates on curbside services, visit www.fulcolibrary.org/curbside.