FULTON COUNTY ARTS & CULTURE ANNOUNCES VIRTUAL CLASSES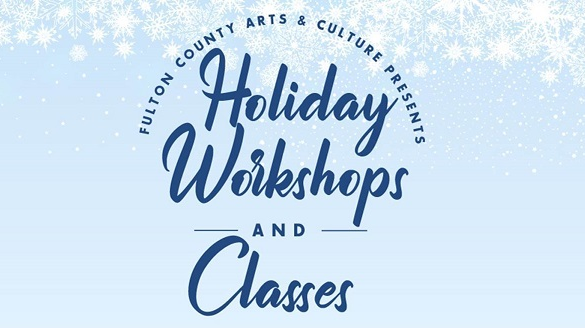 temporary cancellation - FULTON COUNTY ARTS & CULTURE VIRTUAL CLASSES
Celebrate the Season with Holiday Themed Workshops
** Due to technical difficulties Fulton County Arts & Culture will be cancelling Holiday Workshops and Classes until further notice. On Demand Holiday workshops are still available. Please visit www.fultonarts.org or www.fcacevents.org to access Holiday Workshops or for more information.
-------------------------------------------------------------------------------------------------
Fulton County Arts and Culture (FCAC) expands its virtual offerings with Holiday Workshops throughout the month of December as a part of Virtually Creative, the new Fulton County virtual arts education program.

Celebrate the holiday season with a variety of arts classes for all ages featuring instruction in acting, painting, yoga, music and special holiday art projects presented via Zoom. In addition to live class presentations, participants will also have access to on-demand holiday themed workshops to enjoy at their leisure.

"Our arts programming offers something for everyone" says Dr. Pamela Roshell, Deputy Chief Operating Officer, Health & Human Services. "We are committed to continue to support our residents through artistic enrichment as we adapt to innovative ways to creatively move forward during these difficult times."

Residents of Fulton County are encouraged to participate, all classes are free and open to the public. Registration is required for all live classes.
For more information, please visit www.fultonarts.org or www.fcacevents.org.