Fulton County Voters Can Vote + Test + Vaccinate at State Farm Arena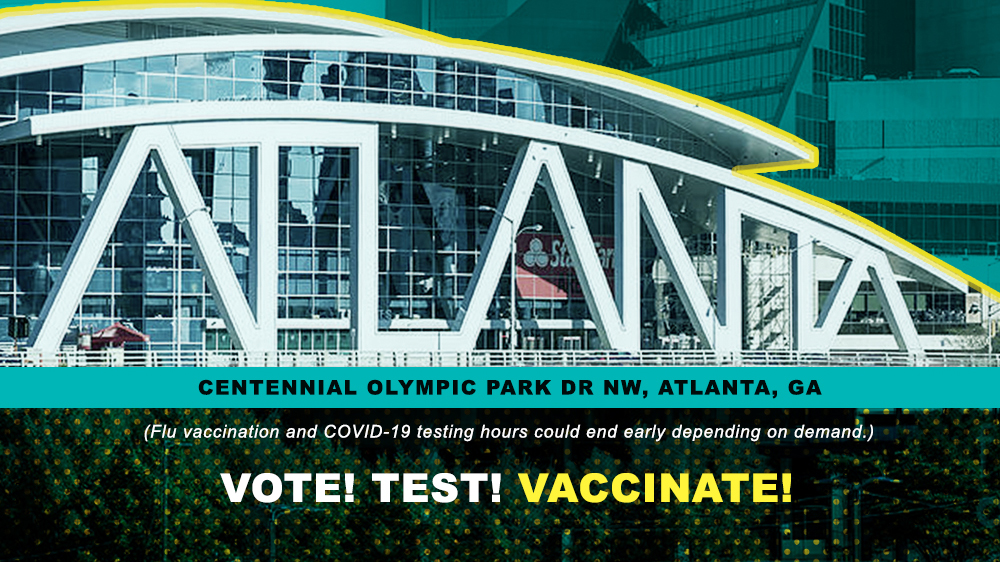 Fulton County Voters Can Vote + Test + Vaccinate at State Farm Arena
Starting Friday, October 23, Fulton County voters can conveniently access free COVID-19 testing and flu shots at Georgia's largest polling location. These new services are made possible through a partnership among Fulton County, CORE (Community Organized Relief Effort), the Fulton County Board of Health, the Atlanta Hawks and State Farm Arena.
This year, State Farm and the Atlanta Hawks partnered with Fulton County to create the largest voting site in Georgia history. With COVID-19 cases once again on the rise, voters can now take care of their health while casting their ballot.
Fulton County has contracted with CORE to expand COVID-19 testing capacity. In addition, with the arrival of flu season, the Fulton County Board of Health will offer free flu shots onsite to adults in an effort to prevent people from getting sick.
The COVID-19 testing and flu vaccines will be available on Centennial Park Drive, near on the walkway near the MARTA Station. Any Fulton County resident can access these services.
CORE will offer COVID-19 testing 10 a.m. – 4 p.m. through the end of early voting. Testing and vaccines will not be offered on Sunday, October 25.
The Fulton County Board of Health will offer flu shots Friday, October 23 & Monday, October 26 – Friday, October 30, 10 a.m. – 3 p.m.
COVID-19 tests and flu vaccines will be offered at no cost, subject to availability.
"Fulton County's highest priorities at this time are the fight against COVID-19 and the successful operation of the November 3 Election," said Chairman Robb Pitts. "It makes sense to bring COVID-19 testing and flu shots together in one location that is convenient and accessible to thousands of as they cast their ballots."
"Voter turnout in Fulton County has been tremendous at State Farm Arena," said Steve Koonin, CEO of the Atlanta Hawks. "We are thankful that Fulton County is supporting the community in so many ways, and we are proud to be a part of the great work the county is doing for our residents."
CORE has been providing free COVID-19 testing in the Atlanta area since April 30, with a focus on vulnerable, high-risk communities. On August 14, Fulton County announced a $3 million agreement with CORE to expand its COVID-19 relief effort to be inclusive of streamlined testing, contact tracing and supported wraparound services through the remainder of 2020.
"Voting and protecting our communities against COVID-19 are two of the most important civic duties of every American," said CORE Co-Founder and CEO Ann Lee. "We are proud to partner with Fulton County and the Board of Health to provide free COVID-19 testing and protect the health and safety of voters."

"Getting a flu shot is critically important for everyone as the vaccine is the best defense against the flu," said Lynn A. Paxton, M.D., M.P.H., district health director, Fulton County Board of Health. "Unfortunately, since the arrival of COVID-19, many people have lost their health insurance coverage. I'm glad that the local public health system can offer flu vaccinations to adults regardless of their ability to pay."
In the first 10 days of early voting, more than 20,000 Fulton County voters cast their ballots State Farm Arena. Thousands more are expected to vote through the last day of early voting on October 30.
###
Media Contacts:
Fulton County | Jessica Corbitt-Dominguez | 404-713-5990 |jessica.corbitt@fultoncountyga.gov
CORE in Georgia | Ursula Douglas | 318-372-0842 |ursula.douglas@coreresponse.org
Fulton County Board of Health | Sheena R. Haynes | 404-612-0939 |Sheena.haynes@fultoncountyga.gov
Atlanta Hawks/State Farm Arena | Garin Narain | 404-878-3893 |garin.narain@hawks.com