Government Center Tax Office Temporarily Closed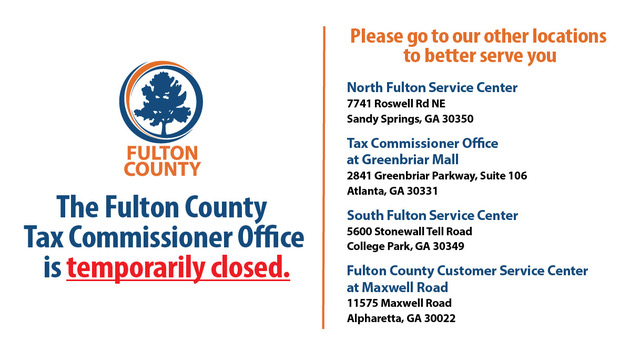 Government Center Tax Office Temporarily Closed
Out of an abundance of caution, the Fulton County Tax Commissioner's Office at Fulton County Government Center, 141 Pryor Street NW, is temporarily closed for cleaning and sanitizing.
Customers can visit one of four other office locations for in-person services:
North Fulton Service Center
, 7741 Roswell Rd NE, Sandy Springs, GA 30350
Tax Commissioner Office at Greenbriar Mall
, 2841 Greenbriar Parkway, Suite 106, Atlanta, GA 30331
South Fulton Service Center
, 5600 Stonewall Tell Road, College Park, GA 30349
Fulton County Customer Service Center at Maxwell Road
, 11575 Maxwell Road, Alpharetta, GA 30022
Customers may also renew their vehicle tags online or at kiosk locations throughout Fulton County. Kiosk locations can be found at
www.fultoncountytaxes.org/
.