TeamFulton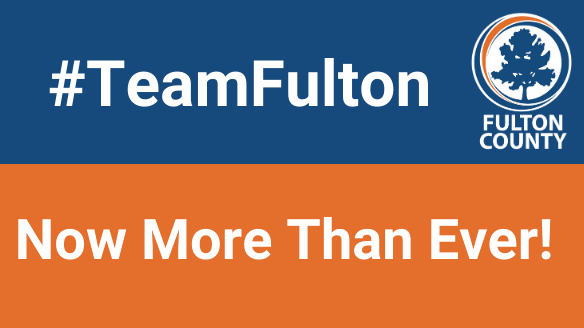 #TeamFulton Now More Than Ever
Now more than ever, Fulton County residents need us. While our facilities are closed to the public, we are proud to say that Fulton County is open for business and continuing to serve.

On April 1, the Board of Commissioners spent the majority of their meeting focused on the COVID-19 response.

Currently about 3,850 employees are teleworking or continuing to work on-site. That represents the vast majority of our workforce. We have been proud to see how you have handled this transition with flexibility and innovation.

About 840 employees have been on administrative leave, unable to report to your normal job site or telework due to Fulton County facility closures. Importantly, the Board of Commissioners' vote ensures that employees on leave will continue without requiring you to use your accrued leave. The Board's action also authorizes the County Manager to work with department directors to identify which of these employees can be assigned to other job duties in non-traditional roles as needed.

Fulton County employees may continue to report to work as needed under the provisions of the Shelter in Place order issued by Governor Kemp, which includes provisions for local governments to continue serving their residents.

At the April 15 meeting of the Board of Commissioners, there will be additional discussion of potential hazardous duty compensation for front-line employees who are required to report to work in the midst of this outbreak. We are also exploring childcare for certain emergency essential employees whose jobs require them to report to work on-site.

Thousands of Fulton County businesses have been affected by COVID-19 and many residents have lost their jobs in the last several weeks. Out of sensitivity to the economic impact of COVID-19, we will be taking some immediate cost saving measures, including:
Delay in the implementation of the Incremental Compensation Strategy
Limited hiring of new positions, with exceptions only for critical positions.
Fulton County is a great place for great people to do great work because of people like you. Thank you for all you are doing to find creative ways to continue serving our residents.

We will emerge from this stronger than ever, and we look forward to seeing you in person in coming weeks.

Be safe!