Fulton County Libraries Receive LEED GOLD Certification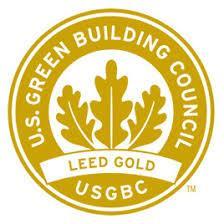 Fulton County Libraries Receive LEED GOLD Certification
Two Fulton County Libraries Achieve LEED GOLD CERTIFICATION Status
Fulton County's very own East Point and Fairburn Libraries have received a very distinguished honor. On January 16, 2020, each branch was awarded the Leadership in Energy and Environmental Design (LEED) GOLD CERTIFICATION by the U.S. Green Building Council.

LEED Certification is an internationally recognized green building certification system,providing third-party verification that a building or community was designed and built using strategies aimed at improving performance across all the metrics that matter most: energy savings, water efficiency, CO2emissions reduction, improved indoor environmental quality, and stewardship of resources and sensitivity to their impacts.

"We cannot tell you how excited we are to hear about the honor bestowed upon these facilities," said Gayle H. Holloman, the Library Director. "Our goal during the library expansion process is to ensure that we remain environmentally sound throughout construction. With this recognition, it appears that we are achieving that goal."

The East Point Library, located at 2757 Main Street, East Point, Georgia, and the Fairburn Library, located at 60 Valley View Drive, Fairburn, Georgia are part of the Group 4 Library Projects. These are the 4th and 5th LEED GOLD library projects.

2M Design Consultants, Inc. (2M), on behalf of the CBRE-Herry/Russell JV Team, congratulated Fulton County Government, Fulton County Library System (FCLS), and Build Smart/Tebarco JV, the awarded design-build company along with their entire team for what the firm described as "beautifully designed and renovated state-of-the-art high performance green libraries."

The design team of J.W. Robinson & Associates, Inc., was led by the late Jeffery L. Robinson, AIA, NOMA who was an extraordinary architect and advocate for LEED. The Dragon Group's professional LEED consulting services, and Levy Engineers who provided LEED Enhanced Commissioning services in concert with the entire professional team for the design and renovation of these LEED High Performance Green libraries. The East Point Library is located in District 5 which is represented by the Vice-Chairman of the Fulton County Commission The Honorable Marvin S. Arrington, Jr., Esq., and; the Fairburn Library is located in District 6 which was represented by the Honorable Commissioner Emma I. Darnell, J.D., (a great advocate for LEED), now represented by The Honorable Commissioner Joe Carn.

Once the LEED Certificates and plaques are received, visitors to the East Point & Fairburn Libraries will be able to view the LEED GOLD plaques that will be on display at the entrance to these very important libraries.