Fulton County Board of Commissioners Approves Renovations to Assembly Hall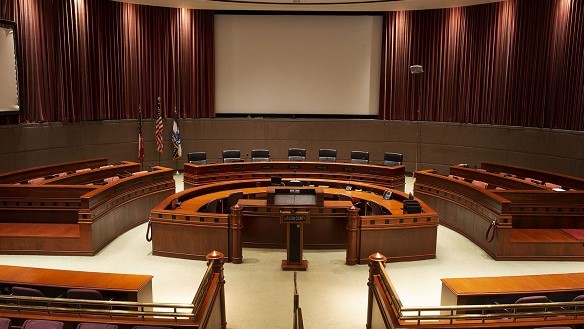 Board of Commissioners Approves Renovations to Assembly Hall
The Fulton County Board of Commissioners (BOC) is launching a significant renovation to the Assembly Hall Auditorium, which will begin May 2020. This is the Assembly Hall's first major renovation in more than 20 years since opening its doors. This $3.5 million project will drastically transform the Auditorium with updated technology, improved lighting, and a new seating area. Deputy Chief Operating Officer Ellis Kirby believes the upgrades are part of the County's continued efforts to ensure quality customer service.

"The Assembly Hall is the primary location where decisions about Fulton County are made," said Kirby. "The renovations will help to increase high level customer service, and to create a functional environment that's designed to present a comfortable positive image not only for the Commissioners and Fulton County employees, but also the citizens."

For Chief Operating Officer Anna Roach providing that high level of customer service is important. She believes that the County's Assembly Hall is one of the primary places where citizens have an opportunity to get involved.

"We have hard working Commissioners and employees and the renovations will reflect the work that is being done every day," said Roach. "The renovation of this public space will help us encourage and promote public participation in their government, which is part of every constituent's civic duty. We are proud to provide a welcoming and inviting space that will improve the opportunity for transparency and citizen involvement."

The project outlines a strategic renovation of the Main Chamber in Assembly Hall, which includes the installation of new carpeting, acoustical wall paneling, and railings. The space will also house 300 new moveable seats. The wider seats will come with tablet arms and aisle lighting. But it is the upgrades to technology that will turn the auditorium into a state-of-the-art facility.

"When the renovations are complete, there will be a new sound system and a big improvement to all audio visual components including video conferencing capabilities," said Kirby. "It will be an overall technology renovation, which will help with meeting management."

"To complement the updating of the physical appearance of the facilities, one of the most impactful aspects of the project is our focus on improving access to constituents with disabilities," said Roach. "Renovations will include accessible wheelchair and companion seating, as well as AV technology enhancements that will enable closed-captioning. We look forward to welcoming residents back to a fully-renovated assembly hall, but we are especially pleased with being able to expand opportunities for citizens with disabilities to access our government."

In addition to upgrades in technology, and the Main Chamber, a new lighting design with updated controls and new LED fixtures along the presentation walls will assist in showcasing the beauty of Assembly Hall. The renovations also boast a new room dedicated to the media and interior upgrades to the Commissioners Chamber.

The renovations are projected to be complete by December 2020.