Ground Breaking for New Hapeville Library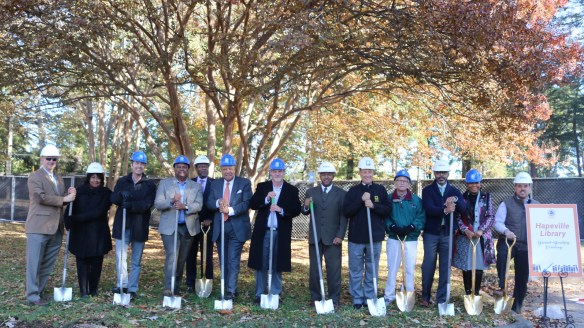 Ground Breaking for New Hapeville Library
The road to build a new Fulton County Library Branch in Hapeville is underway.
On Wednesday, November 13, Fulton County officials, including Chairman Robb Pitts, District 6 Commissioner Joe Carn and County Manager Dick Anderson along with Hapeville Mayor Alan Hallman and members of the Hapeville City Council, broke ground on the new library.
The new 5,000 square foot facility will be constructed on the site of the previous library at 525 King Arnold Street. The former facility, which served the community for more than 40 years, will be demolished.
Designs for a new Hapeville Library were approved by the Board of Commissioners in 2017. The new Hapeville Library will include updated interior layout to maximize visibility and efficiency, extended shelf space for the book collection, areas for tutoring and training, updated building HVAC and MEP systems, as well as new upgraded technology, computers and displays.
The new Hapeville Library is part of the $275 million dollar Library Bond Referendum, which was approved in by voters 2008. Building completion and occupancy for the new library are expected to take approximately 9-12 months.
Until the new library opens, library patrons may use any Fulton County library branch, including the following nearby locations:
East Point Library, 2757 Main Street, East Point, GA 30344
Southeast (Louise Watley) Library, 1463 Pryor Road, Atlanta, GA 30315
Metropolitan Library, 1332 Metropolitan Parkway, Atlanta, GA 30310