Senior Services Brings Attention to Nutrition and Food Deserts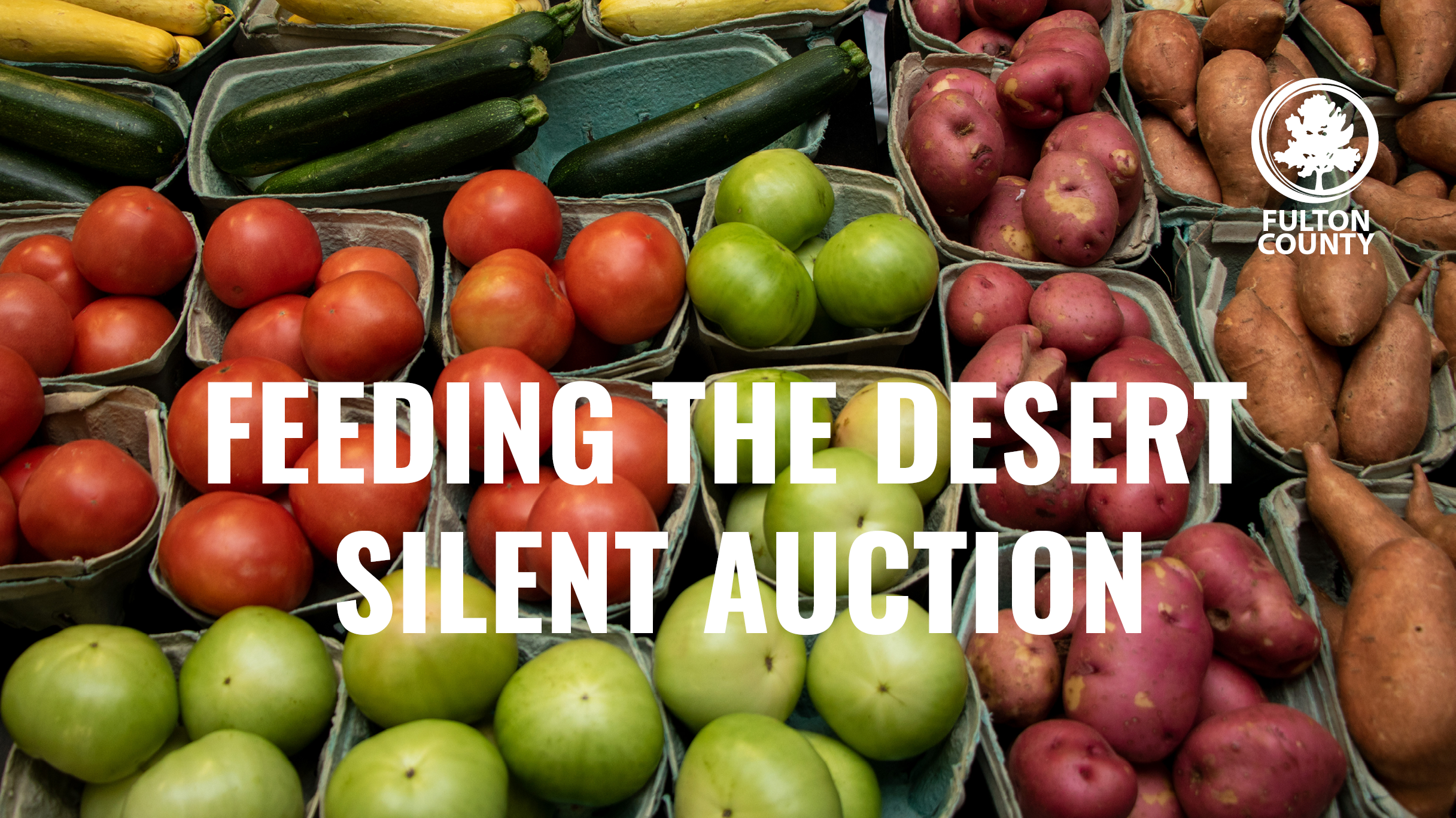 Senior Services Brings Attention to Nutrition and Food Deserts
The Fulton County Department of Senior Services will kick off National Nutrition Month on March 1, 2019 with a Health and Information Fair at H.J.C. Bowden Senior Multipurpose Facility, a Nutrition Community Event at the Harriett G. Darnell Senior Multipurpose Facility as well as a March 2nd, Feeding the Desert Silent Auction at Helene S. Mills Senior Multipurpose Facility. The three events are part of a Senior Services observance of National Nutrition Month.
The Health and Information Fair will be held Friday, March 1 from 9:30 a.m. to 2:00 p.m. at the Bowden Senior Multipurpose Facility located at 2885 Church Street in East Point, GA 30344. The Nutrition Community Engagement Event will be held at the Darnell Senior Multipurpose Facility located at 677 Fairburn Road, Atlanta, GA 30331 from 9:30 a.m.to 11:30 a.m. The Feeding the Desert Silent Auction will be held Saturday, March 2, from 3:00 p.m. to 6:00 p.m.at the Mills Senior Multipurpose Facility located at 515 John Wesley Dobbs Avenue NE, Atlanta, GA 30312.
The free Health & Information fair will feature a demonstration similar to the program "MasterChef." Two students from Charles Drew High School in Atlanta will receive a box of various foods to prepare a tasty and nutritious dish within 30 minutes. The Health and Information Fair will also offer free eye exams, blood pressure checks, cholesterol checks, a nutrition seminar and discussion as well as fresh fruits and vegetables from the Fulton Fresh mobile unit.
The Darnell Senior Multipurpose facility will host the Emory University BSHARP team, the Goizueta Alzheimer's Disease Research Center and the Healthy Heart Coalition. They will highlight good nutrition for a healthy heart and mind. For more information, contact Meletta Clayton at 404-613-7510.
The Friends of Mills, Inc. will host the Saturday, March 2, Feeding the Desert Silent Auction, and all proceeds will benefit seniors living in food deserts. The Mills Multipurpose Facility is located within a food desert. Food deserts are often in low income communities, where nutritious, affordable fruits and vegetables are not easily found and require travel more than one-mile outside of the community.
Feeding the Desert sponsors include Jeffery Randolph Saxby, Esq., Allwell, National Association of Chronic Disease Directors, Pull-A-Part, Trader Joe's, Publix Supermarkets, Sprouts Farmers Market, Dudley's Food & Spirits, Las Colinas Mexican Restaurant, New Era Drive Thru, Mr. James Shabazz, Ms. Inez McDowell, Ms. Alma Washington, Mr. Frank Black and Mr. & Mrs. Robert Kay.
For more information, contact Kimberly Rose at 404-613-5820 or email Kimberly at Kimberly.Rose@fultoncountyga.gov
If you need reasonable modifications due to a disability, including communications in an alternate format, in order to participate in any County-sponsored programs or meetings, please contact Disability Compliance at 404-613-7944 to facilitate your request. For TDD/TTY or Georgia Relay Service Access, dial 711.