Teen Art Intensive: Technical Theatre & Production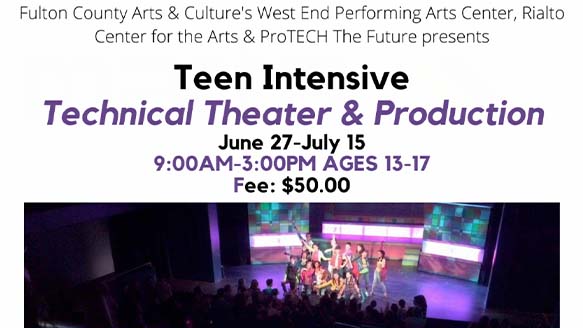 Teen Art Intensive: Technical Theatre & Production
Fulton County Arts & Culture West End Performing Arts Center Presents:
Teen Art Intensive
WEPAC will offer a teen summer intensive for students ages 13 to 18 in Technical Theater & Production. Teens will be exposed to the creative options in Technical Production through training opportunities that include hands-on study of lighting and audio design. Students will also participate in training at Georgia State University's Rialto Theatre.
June 27-July 15,
9:00 AM - 3:00 PM
Cost: $50.
REGISTER NOW THROUGH JULY 18.
Register online: https://anc.apm.activecommunities.com/fultonartsclasses/activity/search/detail/10076
Teen Art Intensive Technical Theatre Production
Start Date: Monday, June 27
End Date: Friday, July 15
Time of the Event: 9:00 a.m. - 3:00 p.m.
Location: West End Performing Arts Center
Fulton County Department of Arts and Culture Directions
Add to Calendar 06/27/2022 09:00 07/15/2022 15:00 America/New_York Teen Art Intensive Technical Theatre Production WEPAC will offer a teen summer intensive for students ages 13 to 18 in Technical Theater & Production. West End Performing Arts Center