Fulton County Recognizes World Elder Abuse Day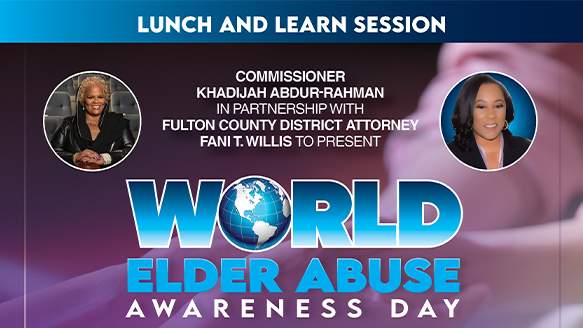 Fulton County Recognizes World Elder Abuse Day
Senior citizens in Fulton County and the surrounding area will learn how to remain safe and fend off scam artists at a special "Lunch-and-Learn" on June 24 in College Park.
As part of the observance of World Elder Abuse Awareness Day (WEAAD), commemorated annually on June 15, Fulton County District 6 Commissioner Khadijah Abdur-Rahman and District Attorney Fani Willis will host the luncheon, which will bring awareness to elder abuse and provide seniors with the tools they need to protect themselves.

The World Elder Abuse Awareness Lunch and Learn event will be held from 11 a.m. to 1 p.m. in the auditorium of the county's South Fulton Service Center, located at 5600 Stonewall Tell Road, College Park, GA 30349. The Georgia Bureau of Investigation (GBI) will be on hand to provide information and resources from its Adult Protective Services unit.

"Seniors are vital members of our community, but there are those who only see them as being the most vulnerable population," said Commissioner Abdur-Rahman. "Protecting our seniors is a priority, and so is prosecuting those who seek to scam, exploit, and harm them."

"Seniors are too often targeted by criminals who seek to hurt them physically or financially," said Fulton County District Attorney Fani Willis. "That's why my office, through our new Elder Abuse Unit, is making a strong effort to protect them. We greatly appreciate Commissioner Abdur-Rahman making a special effort to educate seniors about how they can stay safe, and we look forward to working with her at the event."

According to the National Council on Aging, one in 10 members of the older population will experience some form of abuse, and unfortunately, it will occur at the hands of a family member. Elder abuse includes physical abuse, emotional abuse, sexual abuse, exploitation, neglect, and abandonment. Perpetrators include children, other family members, and spouses—as well as staff at nursing homes, assisted living, and other facilities."

World Elder Abuse Awareness Day was launched on June 15, 2006, by the International Network for the Prevention of Elder Abuse and the United Nation's World Health Organization.

The Board of Commissioners will formally observe WEAAD with the presentation of a proclamation during its June 15 meeting.

To register for the Lunch and Learn, select the link below:
https://www.eventbrite.com/e/world-elder-abuse-awareness-day-lunch-learn-session-tickets-362696273317
Fulton County Recognizes World Elder Abuse Day
Day: Friday, June 24
Time of the Event: 11 a.m. - 1 p.m.
Location: South Fulton Service Center
DIRECTIONS TO SOUTH FULTON SERVICE CENTER
Add to Calendar 06/24/2022 11:00 06/24/2022 13:00 America/New_York Fulton County Recognizes World Elder Abuse Day The awareness day will be a time to promote a better understanding of the abuse and neglect of older persons. South Fulton Service Center