Effective Communication Obligations and ADA Compliance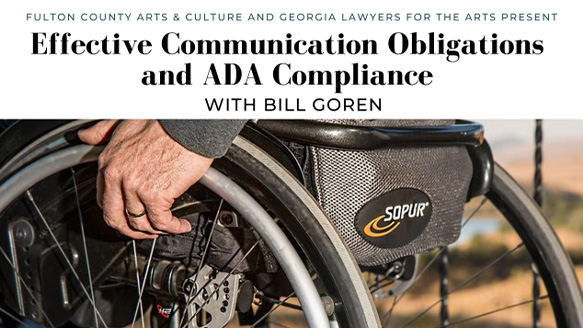 Effective Communication Obligations and ADA Compliance with Bill Goren
Over the past two years, more and more individual artists and art businesses have moved on-line switching their business model to wholly or party virtual. Join GLA and attorney and ADA expert, William Goren, Esq., for a presentation that discusses what it means for an internet site to "comply with the ADA" and what steps can be taken to minimize ADA litigation. There will be time to answer all questions either during or after the seminar.
The event will be held via Zoom. Register online at https://adacompliance2022.eventbrite.com/
Effective Communication Obligations and ADA Compliance with Bill Goren
Day: Thursday, May 19
Time of the Event: 12:00 p.m. to 1:30 p.m.
Location: Zoom
Add to Calendar 05/19/2022 12:00 05/19/2022 13:30 America/New_York Effective Communication Obligations and ADA Compliance with Bill Goren Zoom