MMC Resource Fair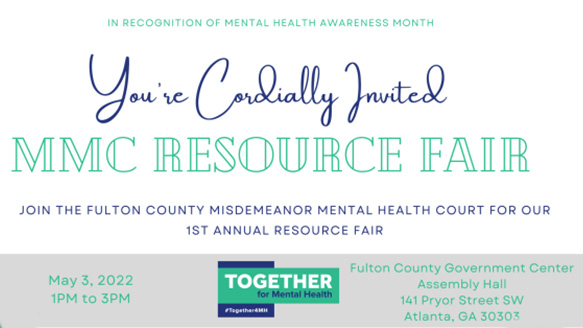 We are kicking off Mental Health Awareness month in May with this Resources Fair which will bring an awareness of the resources available in Fulton County to address mental health, educate the public about the upcoming legislation, and share how County partners are supporting our neighbors in need. Join the Fulton County Misdemeanor Mental Health Court for our first annual resource fair.
Where: Fulton County Government Center Assembly Hall,
141 Pryor Street, SW, Atlanta, GA, 30303
When: May 3, 2022, 1:00 p.m. to 3:00 p.m.
Get tickets at https://www.eventbrite.com/e/mmc-resource-fair-tickets-311126717387
MMC Resource Fair
Day: Tuesday, May 03
Time of the Event: 1:00 p.m. to 3:00 p.m.
Location: Fulton County Government Center Assembly Hall
Directions to Fulton County Government Center Assembly Hall
Add to Calendar 05/03/2022 13:00 05/03/2022 15:00 America/New_York MMC Resource Fair The Resource Fair will bring an awareness of the resources available in Fulton County to address mental health, educate the public about the upcoming legislation, and share how County partners are supporting our neighbors in need. Fulton County Government Center Assembly Hall