Reginald Laurent All The Colors In The World In Person Workshop And Artist Talk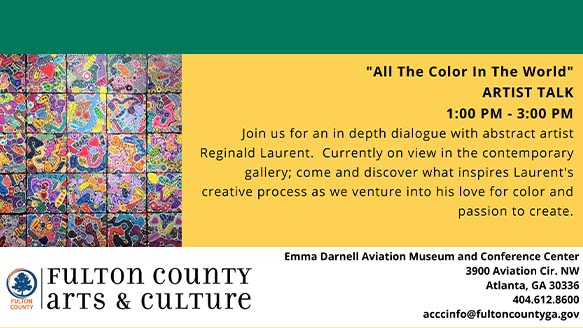 "All The Color In The World" Artist Talk
Join us for an intimate in-person experience as we spend an hour of art making with renowned artist Reginald Laurent. Learn to create his signature "DNA Series" style of art in a paper collage format. Space is limited, registration required. Face masks encouraged.
Register now at https://www.eventbrite.com/e/all-the-colors-in-the-world-in-person-workshop-tickets-310156585697?aff=ebdsoporgprofile
The "All The Colors In The World" Artist Talk will take place from 1 p.m. to 3 p.m.
Join us for an in depth dialogue with abstract artist Reginald Laurent. Currently on view in the contemporary gallery; come and discover what inspires Laurent's creative process as we venture into his love for color and passion to create.
Reginald Laurent: All The Colors In The World In Person Workshop And Artist Talk
Day: Saturday, April 30
Time of the Event: 11:00 a.m. - 3:00 p.m.
Location: Emma Darnell Aviation Museum and Conference Center - 3900 Aviation Cir NW, Atlanta, GA 30336
Emma Darnell Aviation Museum and Conference Center Directions
Add to Calendar 04/30/2022 11:00 04/30/2022 03:00 America/New_York Reginald Laurent: All The Colors In The World In Person Workshop And Artist Talk Join us for an intimate in-person experience as we spend an hour of art making with renowned artist Reginald Laurent Emma Darnell Aviation Museum and Conference Center - 3900 Aviation Cir NW, Atlanta, GA 30336