Fulton County Arts and Culture Public Art Futures Lab Grand Opening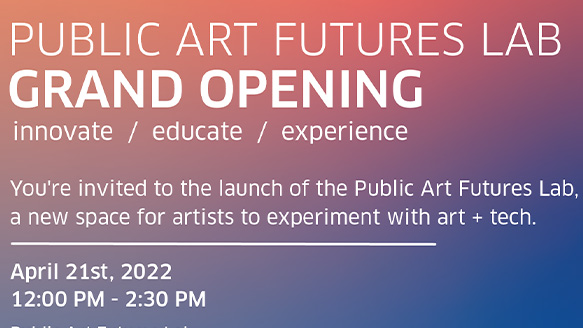 Fulton County Arts and Culture Public Art Futures Lab Grand Opening
Fulton County Arts & Culture in partnership with MARTA Artbound, Arts and Entertainment Atlanta (A&E Atlanta) and Microsoft is celebrating the launch of the new Public Art Futures Lab on Thursday, April 21 from 12:00 p.m. to 2:30 p.m. at Underground Atlanta, 88 Lower Alabama Street, Atlanta, GA 30303.

The new Public Art Futures Lab explores the connection between art and technology, which will create a tech-enabled art accessible experience for the community. Through its partnership with Underground Atlanta, the county now has a studio space to feature artists-in-residence and an exhibition space where residents and other artists can display their work.

"This is exciting news for all of Fulton County," said Fulton County Board of Commissioners Chairman Robb Pitts. "The mission of the Public Art Futures Lab is to help foster discussion between these talented artists and leading technology companies in an effort to develop robust collaborations that result in innovative projects."

"We are thrilled that this new space is becoming available to residents," said Fulton County Chief Operating Officer Dr. Pamela Roshell. "We are providing access to a distinguished list of artists with the introduction of the new artist-in-residence, which will certainly become a defining program for Arts & Culture."

Following a review and scoring from a diverse panel consisting of members from the arts, education, and technology sectors, three artists were selected:


Salvador Iglesias was awarded an A&E Atlanta Residency. Iglesias will explore the use of augmented reality to improve digital sign engagement Downtown.
Max Woo was awarded the MARTA Artbound Residency. Woo will explore digital game development as a tool to increase bus ridership.
Eddie Farr was awarded an A&E Atlanta Residency. Farr is a musician and technologist who will utilize traffic and pedestrian movement data to create real-time digital artworks.
Additionally, the Fulton County awarded three Emerging Art + Tech Education Stipends to TeMika Grooms, DeSitaa Lipscomb and Jamaali Lipscomb. Grooms will continue her exploration of mixed reality while the Lipscomb sister and brother duo will explore NFTs and interactive media applications. Stipend recipients will share their knowledge with the arts community through the Lab's educational programming.

"The goal is to increase access to cultural enrichment for our residents and provide the tools for artists to thrive in a digital economy," said Arts & Culture Director David Manuel. "The launching of the Public Arts Future Lab will provide the opportunity for art lovers around the county to exhibit, experiment, educate and experience the role of technology and how it crosses over into public art."

"We are proud to partner with Fulton County Public Art's Future Lab to explore how new technology can push the boundaries of artistic expression and change our perception of what's possible," said Senior Director Global Workplace Services Americas at Microsoft Mike Lawings. "At Microsoft, our mission is to empower every person and every organization on the planet to achieve more, and that thread runs strongly through our engagement here in Atlanta. We are excited to be part of this important work to empower this generation of artists."

The Fulton County Public Art Futures Lab and its partners joined forces to create an Artist-in-Residency Program designed to provide opportunities for artists exploring emerging forms of creativity through the application of technology to address real world challenges.

"A&E Atlanta is pleased to support the Fulton County Futures Lab in providing this innovative opportunity for creatives to explore the merger of art and technology," said Fredalyn M. Frasier Project Director at Central Atlanta Progress and Atlanta Downtown Improvement District. "We're excited about this inaugural class of resident artists and look forward to integrating their creative methods into our community engagement platform."

"Since its inception, MARTA Artbound has brought the emotion of visual and performing art to the technological world of public transit, making this partnership a perfect fit for us," said MARTA Art in Transit Director Katherine Dirga. "Pairing an artist's big ideas with Microsoft technology is sure to result in creative work worthy of this first of its kind residency."

"We have used art and entertainment to create buzz and bring life back to Underground Atlanta, providing a place for emerging artists and entrepreneurs to showcase their talents," said Shaneel Lalani, CEO of Lalani Ventures. "We're thrilled to partner with the Fulton County Department of Arts & Culture to provide rent-free space at Underground to further its mission of ensuring tech-enabled art is accessible for all of our community members."

The goal of the Public Art Futures Lab is to ensure Fulton County Government and the Atlanta region take a national role in leading the broader adoption of technology in the arts.

To register for this free event, visit: https://pafl-launch.eventbrite.com
To learn more visit: https://publicartfutureslab.com/
Fulton County Arts and Culture Public Art Futures Lab Grand Opening
Day: Thursday, April 21
Time of the Event: 12 p.m. - 2:30 p.m.
Location: Underground Atlanta
directions to Underground Atlanta
Add to Calendar 04/21/2022 12:00 04/21/2022 14:30 America/New_York Fulton County Arts and Culture Public Art Futures Lab Grand Opening The Fulton County's Arts and Culture Public Art Futures is hosting their new labs grand opening. Underground Atlanta