Fulton County to Host Free Wedding Ceremonies to Celebrate Valentines Day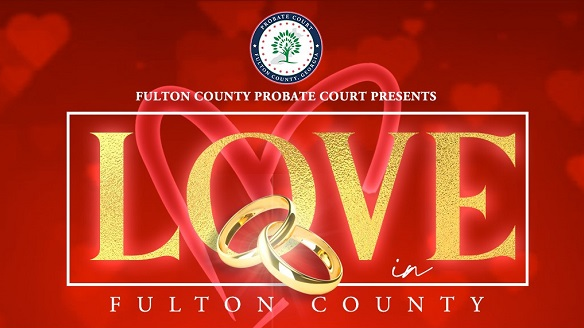 Fulton County to Host Free Wedding Ceremonies to Celebrate Valentine's Day
It will be all about love on Valentine's Day thanks to the judges of Fulton County. Chief Probate Judge Kenya Johnson will join Chief Magistrate Judge Cassandra Kirk to perform free wedding ceremonies on Monday, February 14, 2022. The ceremonies will be performed from 9:00 a.m. – 4:00 p.m. in the Fulton County Government Atrium located at 141 Pryor Street in downtown Atlanta.
"We all know that Valentine's Day is a special time for couples," said Judge Johnson. "At the start of the pandemic, Probate Court paused this popular event, but now, we are excited to offer socially distanced ceremonies to a limited number of couples on this special day of love. It is through our partnership with the judges of Magistrate Court that citizens will have many opportunities to say I do."
"We are eager to join with the Probate Court to expand the options for our community," said Judge Kirk. "During COVID we limited our wedding service to Thursdays, but after two years, this is not a day we could miss."
Couples are required to schedule a time to walk down the aisle through court administration. Participants must bring their marriage license from probate court and a valid photo ID.
To make an appointment and learn how to obtain a marriage license, visit
https://fultoncountyga.gov/inside-fulton-county/fulton-county-departments/probate-court/2022-valentines-day-weddings
Each couple may invite up to 10 guests to view the ceremony in person. COVID protocols will be followed strictly. In-person attendees will be required to wear masks at all times and practice social distancing protocols.
Fulton County to Host Free Wedding Ceremonies to Celebrate Valentine's Day
Day: Monday, February 14
Time of the Event: 9 a.m. - 4 p.m.
Location: 141 Pryor Street Atlanta, GA 30303
Directions to Government Center
Add to Calendar 02/14/2022 09:00 02/14/2022 16:00 America/New_York Fulton County to Host Free Wedding Ceremonies to Celebrate Valentine's Day Couples will be able to freely say 'I Do' all day on February 14, 2022. 141 Pryor Street Atlanta, GA 30303