Fulton County Prepares for the Start of Early Voting for the November 7 Municipal General and Special Election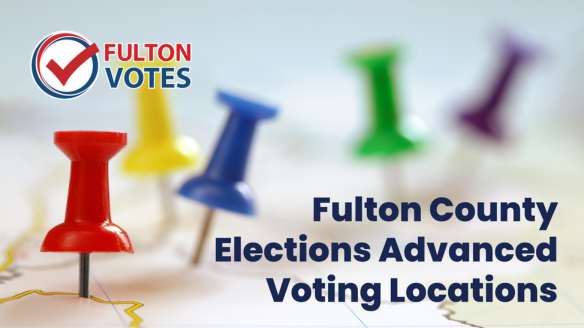 Fulton County Prepares for the Start of Early Voting
The Advanced Voting period for the November 7, 2023, General Municipal Special Election will be held from Monday, October 16 until Friday, November 3, 2023.

The Fulton County Department of Registration and Elections will conduct Elections for 11 of the 15 cities in the county. Residents will head to the polls to vote for candidates vying for mayor, city council and school board seats. Additionally, some voters will also consider, referendums placed on the ballot.

Residents from all but 2 cities will be able to participate in Advance Voting at one of the 14 locations provided by Fulton County. Registered voters in the cities of Milton and Palmetto can learn more about the Advanced Voting location in their cities by visiting:

Milton - Click here
Palmetto - Click here

Voters in the cities of Atlanta, Chattahoochee Hills, College Park, East Point, Fairburn, Hapeville, Johns Creek, Mountain Park, Roswell, South Fulton, and Union City will be able to cast their ballots at any of the following locations:


Buckhead Library

*Absentee Ballot Dropbox Location

269 Buckhead Avenue

Atlanta, GA 30305

Chattahoochee Hills

6505 Rico Road

Chattahoochee Hills, GA 30268

C.T. Martin Natatorium and Recreation Center

*Absentee Ballot Dropbox Location

3021 Martin Luther King Jr. Drive, SW

Atlanta, GA 303011

College Park Library


3467 Main Street

College Park, GA 30337

East Point First Mallalieu United Methodist Church

*Absentee Ballot Dropbox Location

2651 N Church Street

East Point, GA 30334

East Roswell Library

*Absentee Ballot Dropbox Location

2301 Holcomb Bridge Road

Roswell, GA 30076

Fairburn Annex


40 Washington Street

Fairburn, GA 30213

Fulton County Government Center (Office)


141 Pryor Street SW

Atlanta, GA 30331

Gladys S. Dennard Library at South Fulton

*Absentee Ballot Dropbox Location

4055 Flat Shoals Road

South Fulton, GA 30291

Joan P. Garner at Ponce De Leon Library


980 Ponce De Leon Avenue NE

Atlanta, GA 30306

Robert F. Fulton Ocee Library


5090 Abbotts Bridge Road

Johns Creek, GA 30005

Roswell Library


115 Norcross Street

Roswell, GA 30075

South Fulton Service Center (Office)


5600 Stonewall Tell Road

South Fulton, GA 30349

Southwest Arts Center


915 New Hope Road SW

South Fulton, GA 30331
Advanced Voting hours for the Fulton County Advanced Voting locations include:

• Monday – Friday: 9 a.m. – 6 p.m.
• Saturday, October 21 and October 28 from 9 a.m. – 6 p.m.
• Sunday, October 22 and October 29 from 12 p.m. – 5 p.m.

Click here, for more information about voting.